Casino Careers
We Roll with Winners
We don't want people who just want a job. We want people who want the total package, so we offer competitive compensation, a full suite of benefits and unlimited opportunity.
The Nisqually Tribe is committed to providing a better way of life through Red Wind Casino jobs for tribal members and the community at large. Nisqually Red Wind Casino hires, develops and retains employees for the best hospitality careers in the business. If you're looking for an exciting and rewarding casino career, Red Wind jobs are the winning jackpot for you.
Let's get to work providing exceptional internal and external guest service in a fun, safe and friendly environment.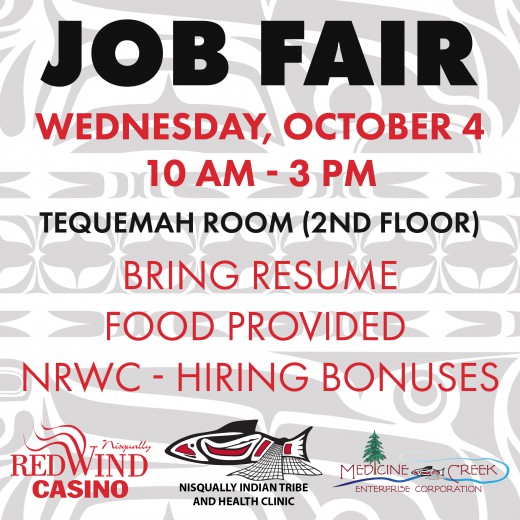 Job Fair
Wednesday, October 4
Tequemah Room (2nd Floor)
Our Benefits Include:
Free Medical/Dental/Vision: Spouse and dependent coverage is also available at low rates and reasonable deductibles.
Free Short-Term Disability, Life and Accident Insurance
Paid Time Off & Holidays
401(k) Retirement Program
Tuition, GED & ESL Reimbursement
Health Club Membership Reimbursement
Team Member Assistance Program (EAP): Provides our team members and their eligible dependents with confidential access to short-term, professional counseling and legal services at no additional cost.
And Then There's the Perks:
Free daily meal in team member dining area
Free parking
Free uniform dry cleaning
Free badge renewal
Gift Shop and dining discounts
Yearly service awards
Team member and leader awards
Perfect attendance awards
Periodic giveaways and contests
Company picnics (summer & winter)
Sign up for news, updates & special offers